Day 89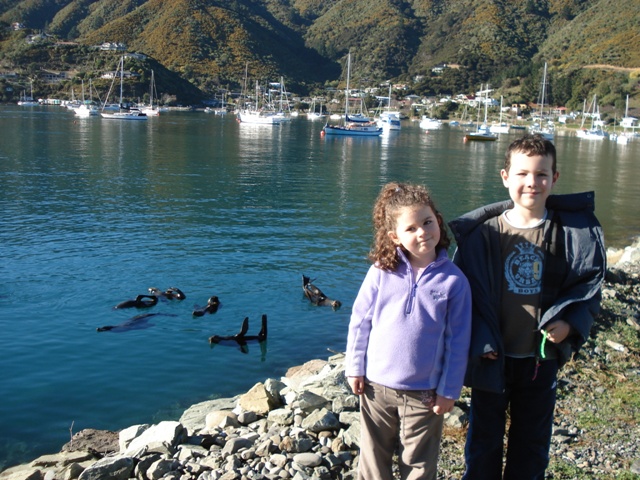 We had a fabulous holiday, with Grandad and Wendy, caught up with a few friends who we haven't seen in a long time, and did some relaxing and fun things.  The photo above shows Liam and Ashleigh with the resident seals in Picton, they have been there for about the last couple of weeks and just enjoy sunning themselves and watching the people watching them!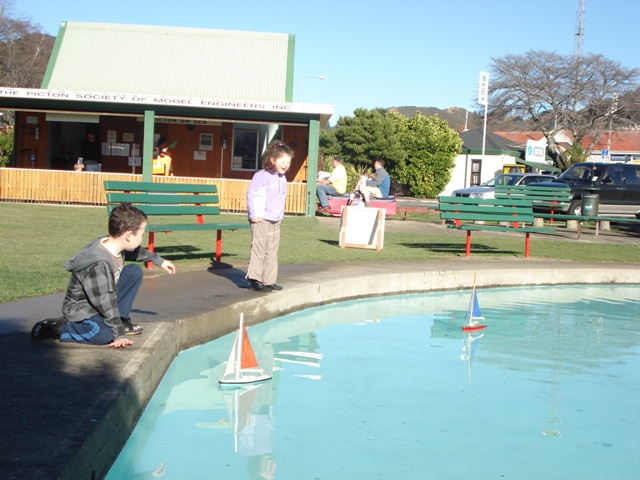 The kids enjoyed sailing the boats and riding the train at the waterfront, each activity costing a mere 20c!  Cheapest two hours of entertainment you can get.  They had a wee problem with the boats being becalmed in the middle of the pool a couple of times but I guess that just adds to the fun.  It was nice as the kids remember sailing the boats too with their Dad on one of our last holidays before he passed away.
We went to the aviation museum in Omakau on Sunday which we all enjoyed.  Alot of the props were made by Weta Workshops which was cool for Liam as of course he has been there.  The photo above is depicting an incident which occurred (I think in World War II) where the plane was damaged from a bullet and as the pilot was about to jump out prior to crashing, he discovered that he could balance the plane by standing on the wing and operating the controls with one hand.  He flew in over the enemy lines and landed safely on his own side.  There were heaps of stories like his to go with all the planes, and a display with the Red Barons plane was there.  If you get a chance to go there definitely do!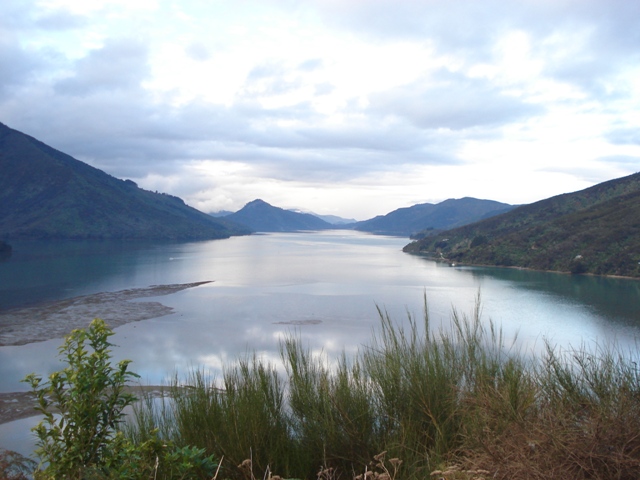 We went to Nelson on Tuesday and this is the view from the lookout on Queen Charlotte Drive in the Marlborough Sounds.   We were very generously given a house to stay in by Helen and Gary at the Top Ten Holiday Park in Nelson.  Thank you so much!  We spent a lovely evening with my Aunt and Uncle who were house sitting on a farm, so the kids got to feed the chooks and collect the eggs and wander around in the mud looking at the sheep and ostriches.  We spent Wednesday catching up with an old friend Heidi and her beautiful children.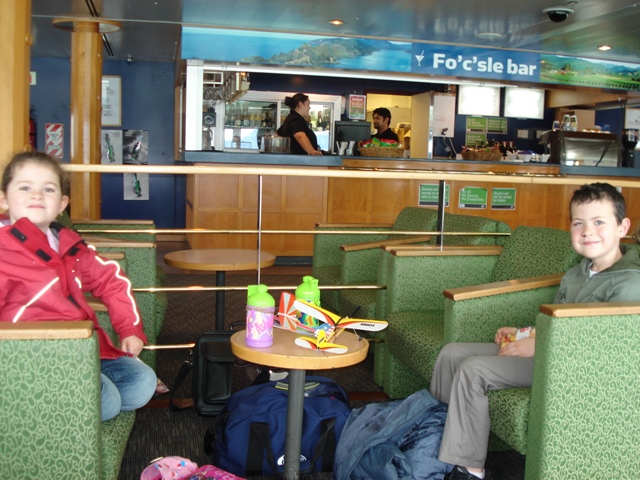 On Thursday we very nervously boarded the ferry for the trip home, Liam was making me promise that it wouldn't be rough, but of course all I could promise was that it wouldn't be as rough as the sailing down.  Luckily it wasn't!  We perched ourselves in the bar at the bow (front for those who don't know boat speak!) and the kids watched a DVD while I sat and did some reading.  We arrived in Wellington safely – thanks for picking us up Robyn – and headed home to Waikanae. 
As for Liam, he is still doing well, I took him to the Doctor to check on his nose which won't stop bleeding, but we seem to have that under control now.  We have appointments with Doctors all day wednesday but not the ones which will have any results for us.  We will still be waiting another couple of weeks for those at least.  He is back at school tomorrow, and we will sit down and have a conference tonight about the do's (take it easy and eat your lunch) and the don'ts (no ball tag, bull rush etc).  I guess he will figure out his limitations soon enough.
Thats all from me for now, hope all is well with everyone.
Love
Becs