Day 318 – Saturday 28th February 2009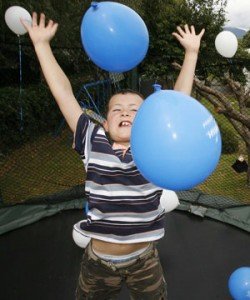 I have decided to add another post today as I think the events of yesterday warrant it.
A wee while ago I sent an application in on Liams behalf to the Make a Wish Foundation.  His wish was for a trampoline.  Yesterday his wish was granted.
We decided to surprise Liam with his wish, so after the initial meeting with Make a Wish I said no more about it so he had absolutely no idea what was in for him when he got home yesterday.
Air New Zealand are a huge sponser of the Make a Wish Foundation and recently over a week they had been asking for donations on board their domestic flights to help fund the wishes of 3 children, one of them being Liam's.  They raised well over $20,000, and Make a Wish had to literally take a trolley laiden with coins and foreign currency to the bank.  I think the bank got a bit of a surprise, and the Air NZ staff were blown away by the generosity of some people. 
The CEO of Make a Wish, Scott, along with 3 of the Air NZ staff involved in collecting the donations, Vai, Deb, Chris and our two Make a Wish volunteers from Raumati – Trish and Jeff, as well as the Dominion Post reporter Kay and the photographer Ross arrived yesterday to surprise Liam and share in the giving of his gift.
Jasper and our wonderful next door neighbours Helen and Derek (Mr and Mrs J) spent most of yesterday assembling the trampoline, which I can tell you is no mean feat.  The tramp is huge and has two mats, which add to the bounce.  It also has pads all around the outside and a safety net to stop anyone going astray. 
After everyone arrived I walked down to school to pick up Liam and Ashleigh, who had absolutely no idea all of this was happening.  When we got up the driveway Liam spotted it (hard not to as it is so large) and let out a scream of delight.  He then raced towards it only to come to a stand still when he saw all the people hiding on the deck!
He then got on and proceed to have a marvellous time bouncing around with all the balloons.  Courtesy of the Air NZ crew he was also given a hurricanes jersery signed by the entire Hurricanes squad, two t shirts signed by Helen Clark, Bill English, Tamati from Breakfast (with a really nice message on it) and a couple of Warriors.  But wait thats not all, he was also given a voucher for 25 icecreams from Krumbs Cafe in Paraparaumu Beach, which they kept telling me was for Liam and not me, and a voucher for BBQ food from Raumati Butchery which is fantastic as we love our BBQs.  There was also a make a wish bag with 2 hats, lip gloss, drink bottle, fridge clip and a t-shirt, oh and a cake!
He is a very lucky boy and really the words thank you do just seem so inadequate.  All the people we met yesterday were so wonderful and so friendly and they did the most special thing of all as far as I am concerned, they put a smile on my sons face.  So Scott, Deb, Vai, Chris, Trish and Jeff and all the others that made yesterday happen thank you from the bottom of our hearts.  Also thank you to Helen and Derek for storing the Tramp for the week in your garage and for all the help yesterday with assembling it, Jasper was so thankful that you were there to help!
Here is the link to the article that was in the Dominion Post this morning.