Day 37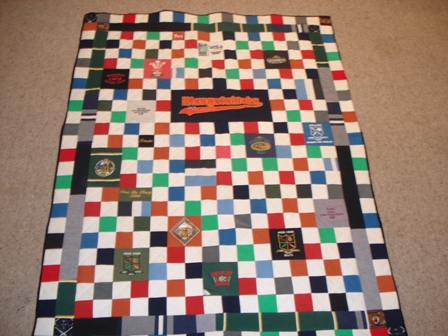 The above picture is of Liam's memory quilt which was made lovingly by his Aunty Vickie and is made from all of Matt's clothing.  What an incredibly special and precious gift, Victoria has put in so much work and the words thank you seem so inadequate.  It is difficult to find the right words to say how we feel about it, but it is something that Liam can keep forever to remember his Dad, and will be cherished and treasured for many years to come.  We sat there this afternoon and could pick out which piece belonged to which shirt, and the little stories that go with each of the logo's.  It is a truly very special gift. 
Liam had yet another blood test after school today, he was very brave and got a certificate to prove it!  The test is a general check and to cross match the blood he will need during the surgery.
The hospital phoned and they want him in surgery by 7.15am now so we have to be there at 6.15am.  They asked if we would like to stay Tuesday night but there was a very quick no said to that, we will just get up early!
We also picked up the jersey's from the framers today as well and they look fabulous and Liam is going to hang them on his bedroom wall.
He has been given lots of little gifts that should keep him occupied for a while, thanks to everyone –  I hesitate to name you all as I know I will forget someone, so please know that we are very appreciative of everything everyone is doing for us.
I think I am keeping the Rescue Remedy company in business at the moment as we count the days down.  2 more sleeps to go.
Take Care
Becs and Co.  x