Day 33 – Pre op Assessment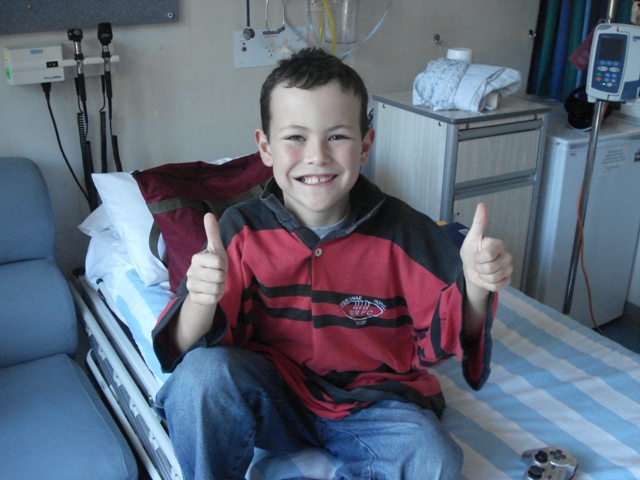 We went over to Lower Hutt hospital armed with our mile long list of questions today.  I have to admit we got most of the questions answered and were there for a good 3 hours.
 We have been told to expect the surgery to take anywhere between 8 to 12 hours.  It is certainly going to be an incredibly long day, and thanks to Maryanne we have a couple of passes to Les Mills gym so will probably go and get the endorphins flowing there for a while to pass some time, may do a bit of retail therapy too no doubt.  The Registrar and House Surgeon both went over again what is involved in the surgery in great depth.  It was alot of information to take in and just reinforced the fact that it is a very difficult and intensive procedure.
Liam will go straight from surgery to the Intensive Care Unit where he will be for at least 2 days.  He will have a nurse all to himself and they will monitor him every 30 minutes to check that both the surgery sites have good blood flow and that the reconstructed tissue is not dying off.  After he is released from ICU he will go to the childrens ward at Hutt Hospital when he can start receiving visitors and will stay there for about another week. 
He will be visited there by a school teacher when he is up to it (he thought he was going to get away with no school work – ha ha) and they will follow up when he is discharged and is recovering at home.
He is off for a blood test on Monday and cross typing for his transfusion blood and then into hospital early Wednesday morning.
There was lots and lots of information given to us today which would take me all night to type and probably freak everyone out too much, so will leave it at that for now! 
After the hospital we went up to St Benedicts school in Khandallah where the girls go, to deliver a bag of lollipops to Mrs Goodalls class (room 9) who very thoughtfully made Liam a get well card each.  They put so much work into all of them and Liam wanted to thank them for their thoughts and to tell them he has them hanging from his bedroom wall.
Thats all from us for now, I hope everyone is doing well.
Becs and co
(above is Liam in his Dad's "courage" Waikanae rugby jersey)