Day 24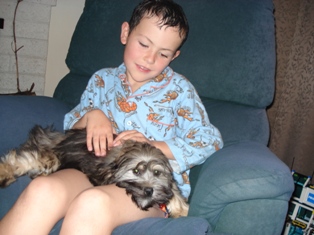 Liam got a special surprise today, Coco our new puppy arrived from Auckland.  She is absolutely beautiful, and Liam and Ashleigh just love her.  She is a Lowchen and is about 10 inches high.  She is a little bit timid at the moment while she gets used to her new home, but she is gorgeous and as you can see from the photo more than happy to sit on Liam's knee.
 My friend and I were like two little kids going to pick her up from the airport.  We went out for lunch and were giggling like school girls. 
Liam has taken a real shine to her and it was his choice to call her Coco which I think suits her really well.  It will be nice for him to have some company to cheer him up when he is a bit sore or feeling down.
Hope you all have had a good day
Becs